The Prison Minyan (Paperback)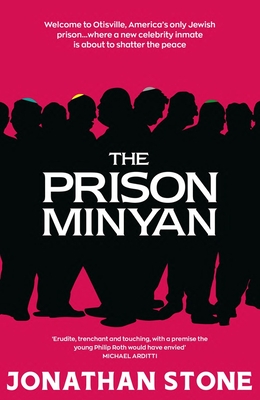 $15.95

Usually Ships in 1-5 Days
Description
---
Welcome to Otisville, America's only Jewish prison...where a new celebrity inmate is about to shatter the peace.
'Erudite, trenchant and touching'- Michael Arditti
'Delectable... glorious... this most cherishably Jewish of books.' - Jewish Chronicle
The scene is Otisville Prison, upstate New York. A crew of fraudsters, tax evaders, trigamists and forgers discuss matters of right and wrong in a Talmudic study and prayer group, or 'minyan', led by a rabbi who's a fellow convict. As the only prison in the federal system with a kosher deli, Otisville is the penitentiary of choice for white-collar Jewish offenders, many of whom secretly like the place. They've learned to game the system, so when the regime is toughened to punish a newly arrived celebrity convict who has upset the 45th president, they find devious ways to fight back. Shadowy forces up the ante by trying to 'Epstein' - ie assassinate - the newcomer, and visiting poetry professor Deborah Liston ends up in dire peril when she sees too much. She has helped the minyan look into their souls. Will they now step up to save her?
Jonathan Stone brings the sensibility of Saul Bellow and Philip Roth to the post-truth era in a sharply comic novel that is also wise, profound, and deeply moral.
About the Author
---
Jonathan Stone recently retired from a 40-year career in advertising. He was the creative director at a New York advertising agency and did most of his fiction writing on the commuter train between the Connecticut suburbs and Manhattan. Of his nine published novels, several are currently optioned for film: Moving Day is set up as a feature at Lionsgate Entertainment, Days of Night has been optioned by New Republic Pictures, and Parting Shot has been optioned by Marc Platt Productions. A graduate of Yale, Jon is married, with a son and daughter. He lives in New Canaan, Connecticut. 
Praise For…
---
"Rare is the book which is so delectable that, once you have finished it, you want immediately to read it all over again, but Jonathan Stone's glorious The Prison Minyan is just that. The title alone makes you want to dive into the pages straight away. …the multiple moral questions … lead to a dazzling denouement. Stone's dry tones, also present in his earlier, terrific novels, surely reach an apogee in this most cherishably Jewish of books." The Jewish Chronicle.
"Thriller writer Stone delivers a puckish Philip Rothesque satire of a Jewish community. Pithy character portraits are folded into the first half of the novel, blossoming later into amusing episodes. Stone offers more, thankfully, than low-hanging comic fruit. He skilfully digs into the challenges and trials of his inmates and their incarceration as they undergo soul-searching and examine their lives, all without abandoning his effective one-liners."
From Publishers Weekly
"The Prison Minyan , Jonathan Stone's latest work of fiction, is a sage, droll novel that keeps the reader glued until the final pages. We are riveted not only to the plot (no spoiler here) but to the profound dilemmas he spins. What is the price of decency, even among a prison population?" From BookTrib
"There are crimes aplenty within the prison walls . . . but Stone is after something more diffuse and philosophical . . . it veers between legitimate scares and a sense of the absurd . . . "The Prison Minyan" occupies terrain few others will likely explore." The New York Times Sunday Book Review
Hilarious, deep, interesting and will definitely make you laugh out loud a lot. I'll recommend it to everyone I know' BookishGeeky
'Erudite, trenchant and touching, with a premise that the young Philip Roth would have envied'Michael Arditti
'A delicious treat. As good as any rugelach' Tommy Schnurmacher
'Warm, insightful, wise and very funny. Jonathan Stone has created a remarkably appealing community of prison inmates and staff. Quite brilliant'
Abi Silver
'To the best of my knowledge, The Prison Minyan is the first fiction written about the lives of Jewish criminals that is set in a uniquely Jewish prison. This book has abundant humour and a light touch but it also raises some serious issues, such as the true cost of a life of crime; the meaning of loyalty; antisemitism; morality; and the power of poetry – and words in general – to transform one's life. An intriguing and enjoyable read' Nora Gold
More Praise For Jonathan Stone
"Die Next is the model of a brilliant and stylish thriller. Rich with character development and it's-like-I'm-there settings, the novel is an adrenaline rush between covers. Bravo!" ―Jeffery Deaver, author of The Bone Collector and The Goodbye Man, on Die Next
"Crisp, elegant prose distinguishes this exceptional crime thriller from Stone."―Publishers Weekly, starred review, on Moving Day
"A spellbinding ride." —Library Journal , starred review, on Moving Day."Stone plays cruel and cunning mind games."―The New York Times Book Review, on The Cold Truth
"Stone creates the kind of people who can make a reader turn pages."― Kirkus Reviews, starred review, on The Heat of Lies
"Audacity can be a welcome ingredient in a mystery, especially when it's coupled with a ferocious literary talent…it's a great, devilish pleasure." —Chicago Tribune, on The Heat of Lies
"Stone works the formula brilliantly." — Boston Globe, on The Cold Truth