Look Hamlet (Hardcover)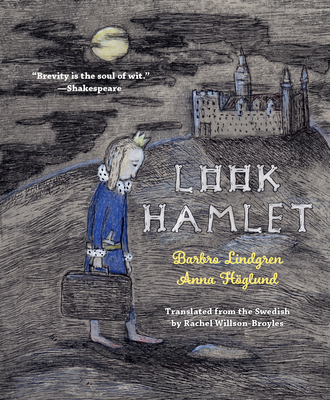 $17.99

Usually Ships in 1-5 Days
Description
---
A hilarious, darkly comic graphic retelling of Shakespeare's Hamlet in radically condensed prose by legendary Swedish children's author Barbro Lindgren and illustrator Anna Höglund.

Look Hamlet.

Hamlet not happy.

Hamlet's mommy dumb.

Hamlet's daddy dead.

So begins this wonderfully strange, dark, and hilarious picture book version of Shakespeare's greatest tragedy boiled down to its smallest possible size: 100 words, give or take, and fifteen etchings that look like the lovechild of Beatrix Potter and Edward Gorey.

In our despondent antihero, a lop-eared bunny Hamlet with handbag in tow, is somehow embodied all the tremendous pathos of Shakespeare's Danish Prince. And in legendary Swedish children's author Barbro Lindgren's pithy prose resides the poetry of the original, reworked for the era of memes and short attention spans.

Bold and brilliant, irreverent and humane, Look Hamlet is the perfect irreverent gift for Shakespeare readers of all ages. As the Bard himself wrote: "brevity is the soul of wit."
About the Author
---
Barbro Lindgren, born in 1937, is a Swedish author of innovative and multifaceted works for children of all ages. The winner of the world's largest children's literature prize, the Astrid Lindgren Memorial Award (ALMA), her body of work includes picture books, poetry, plays, and books for young adults. Since her debut as an author in 1965, she has published over a hundred titles, and her work has been translated into more than thirty languages.

Starting out as a poor painter, artist Anna Höglund believed making picture books would put more solid food on the table for her family. It didn't really. But she discovered the possibilities of the medium, which today she still considers the ultimate: the crossbreeding of text and picture suits her perfectly. She has been doing this since 1982, when she was twenty-four.

Rachel Willson-Broyles is a freelance translator based in Saint Paul, Minnesota. She received her BA from Gustavus Adolphus College and her Ph.D. from the University of Wisconsin-Madison. Her other translations include Jonas Hassen Khemiri's novels Montecore and Everything I Don't Remember and plays INVASION! and I Call My Brothers,< Mal/i>in Persson Giolito's novel Quicksand, and Jonas Jonasson's novels The Girl Who Saved the King of Sweden and The Accidental Further Adventures of the Hundred-Year-Old-Man.
Praise For…
---
"A classic, retold so it has become a wayward, mildly insane new piece of art."
—Lotta Olsson, Dagens Nyheter
— Lotta Olsson
"Barbro Lindgren is a literary pioneer. Using adventurous language and rich psychological nuance, she has re-invented not only the picture book for the very young but also the absurd prose story, the existential children's poem, and realistic fiction for young adults. With perfect pitch, she presents to us both playful shenanigans and moments of bright joy, the inscrutable nature of life and the nearness of death."
—
Astrid Lindgren Memorial Award Jury Citation
— Astrid Lindgren
"[A] wonderfully funny retelling of William Shakespeare's
Hamlet
… Lindgren somehow manages to capture all of the high points of Shakespeare's tale, from the adulterous marriage of his mother and his murderous stepfather to the appearance of his father's ghost to the bitter scene of mass murder at the end of the play, with a minimum of dialogue. Illustrator Anna Höglund gives us an anthropomorphic rendition of the players which seems to make them even more human than any version I have ever seen on stage. Hamlet, as a deeply depressed rabbit, tugs at the heartstrings more than Gielgud ever could and Claudius as a wicked rat seems vastly appropriate casting.... I cannot wait to read it to my students next semester when we are studying
Hamlet
. I am sure after making them sit through the breathtaking four-hour Branagh version, this will be a very welcome break. This would make a wonderful gift for any Shakespeare fan in your life."
—
Tamara Benson, Tulsa Book Review
— Tulsa Book Review