How to Train a Wild Elephant: And Other Adventures in Mindfulness (Paperback)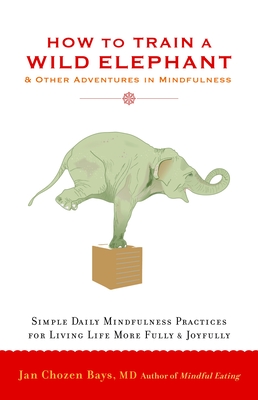 $14.95
Staff Reviews
---
Simple exercises for those of us who never seem able to set aside time for meditation, or feel silly repeating a mantra. No yoga mats, chanting, gurus, or out-of-body transports. Bays offers mindfulness practices that can be incorporated into our daily routine, inviting us, for example, to "Use Your Non-dominant Hand," "Look Up!," or "Notice Smells" as we travel through our daily lives. Hints about how to remind ourselves of the challenge and what deeper meaning we might glean from our experience.
— From
Kim Recommends
Description
---
A growing body of research is showing that mindfulness can reduce stress, improve physical health, and improve one's overall quality of life. Jan Chozen Bays, MD—physician and Zen teacher—has developed a series of simple practices to help us cultivate mindfulness as we go about our ordinary, daily lives. Exercises include: taking three deep breaths before answering the phone, noticing and adjusting your posture throughout the day, eating mindfully, and leaving no trace of yourself after using the kitchen or bathroom. Each exercise is presented with tips on how to remind yourself and a short life lesson connected with it.
About the Author
---
Jan Chozen Bays, MD, is a Zen master in the White Plum lineage of the late master Taizan Maezumi Roshi. She serves as a priest and teacher at the Jizo Mountain–Great Vow Zen Monastery in Clatskanie, Oregon. She is also a pediatrician who specializes in the evaluation of children for abuse and neglect.
Praise For…
---
"Among the current spate of books on mindfulness, Bays's distinguishes itself with 53 simple practices tested through 20 years at the Great Vow Monastery in Oregon. [She] brings gentle compassion to the task of integrating mindfulness into a busy life."—Publishers Weekly

"With simple exercises designed to bring mindfulness into daily life and with gentle ways to remind ourselves to practice, the author leads practitioners to the discoveries and deeper lessons that each exercise can reveal. With [Jan Chozen Bays's] help, mindfulness practice becomes a powerful yet delightful gateway to the inner peace that is within reach of us all."—Spirituality & Health


"In a brilliant, practical, and elegant way, Bays has answered the question most frequently asked by students of meditation, 'How do I bring this practice into my daily life?' Here is a jewel box of insightful, wise, beautiful, and compassionate ways to do so."—Jack Kornfield, author of A Path with Heart

"A delightful collection of simple, down-to-earth exercises anyone can use to live each day more mindfully. Rich with wisdom, psychological insight, and fresh perspectives, this is a great resource for anyone wishing to live a fuller, saner, happier, more conscious life."—Ronald D. Siegel, PsyD, assistant clinical professor, Harvard Medical School, author of The Mindfulness Solution

"A collection of mindfulness practice gems. The writing is often funny and always forthright. How to Train a Wild Elephant is an accessible, helpful, and thoughtful book."—Dr. Arnie Kozak, Beliefnet blogger for Mindfulness Matters


"This warm, welcoming, and wise book invites us to practice mindfulness now, right in the midst of life. The weekly exercises are illuminating, immensely practical, and fun."—Diana Winston, UCLA Mindful Awareness Research Center, co-author of Fully Present: The Science, Art, and Practice of Mindfulness

"Regardless of the path you travel on your spiritual journey, How to Train a Wild Elephant can help you 'live life more fully and joyfully.'"—Portland Woman magazine


"This is the kind of book you can open to any page, anytime, and read something that just might stop your mind in its tracks."—Nexus

"Inspirational collection of 53 fun, simple exercises designed to increase awareness and fulfillment in everyday life. The refreshing primer insightfully explores compassion, creativity, faith, and fear."—Library Journal