Good Husbandry: A Memoir (Hardcover)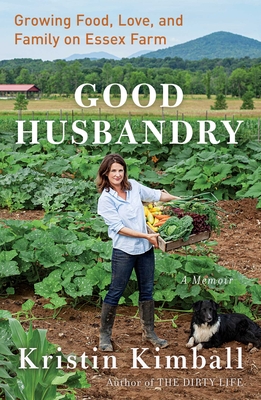 $26.00

Usually Ships in 1-5 Days
Staff Reviews
---
Recommended by Liz & Nate Brownlee, Nightfall Farm:
When we started our farm, we thought that if we made it through five years, we'd have everything figured out and feel secure. We're in year 7 now, and we've realized that we'll always be learning. New challenges present themselves each year! 'Good Husbandry' finds Kristin and Mark still at Essex Farm, in year 7. This book is a fun read, and shares the different challenges that come with being an established farm, including the difficulty of separating personal life from farm life.
Nate wrote a little column about the book, if you want to read it: http://www.tribtown.com/2020/01/23/book_offers_insight_into_life_on_the_farm/
— From
Village Lights Recommends
Description
---
From the celebrated author of the beloved bestseller The Dirty Life, a "beguiling memoir about the simple life" (Elle), Kristin Kimball describes the delicious highs and sometimes excruciating lows of life on Essex Farm—a 500-acre farm that produces a full diet for a community of 250 people.

The Dirty Life chronicled Kimball's move from New York City to 500 acres near Lake Champlain where she started a new farm with her partner, Mark. In Good Husbandry, she reveals what happened over the next five years at Essex Farm.

Farming has many ups and downs, and the middle years were hard for the Kimballs. Mark got injured, the weather turned against them, and the farm faced financial pressures. Meanwhile, they had two small children to care for. How does one traverse the terrain of a maturing marriage and the transition from being a couple to being a family? How will the farm survive? What does a family need in order to be happy?

Kristin had chosen Mark and farm life after having a good look around the world, with a fair understanding of what her choices meant. She knew she had traded the possibility of a steady paycheck, of wide open weekends and spontaneous vacations, for a life and work that was challenging but beautiful and fulfilling. So with grit and grace and a good sense of humor, she chose to dig in deeper.

Featuring some of the same local characters and cherished animals first introduced in The Dirty Life, (Jet the farm dog, Delia the dairy cow, and those hardworking draft horses), plus a colorful cast of aspiring first-generation farmers who work at Essex Farm to acquire the skills they need to start sustainable farms of their own, Good Husbandry is about animals and plants, farmers and food, friends and neighbors, love and marriage, births and deaths, growth and abundance.
About the Author
---
Kristin Kimball is a farmer and a writer living in northern New York. Prior to farming, Kimball worked as a freelance writer, writing teacher, and as an assistant to a literary agent in New York City. A graduate of Harvard University and the author of The Dirty Life and Good Husbandry, she and her husband Mark have run Essex Farm since 2003, where they live with their two daughters.
Praise For…
---
"Exquisite… describes the surprising enchantment of crops that need tending, cows that need milking... The children thrive, meals are glorious and bountiful… my gratitude for those who spend their lives giving us food grows ever more bountiful. I closed this lovely book with a fervent wish that everyone in it live happily ever after."
–Dominique Browning, The New York Times Book Review

"Frighteningly intelligent… an excellent follow-up… offers a vivid example of what a good, sustainable, modern family farm looks like but also a reminder of how furiously, almost masochistically, devoted you have to be to keep such a place alive."
–Stephen Heyman, Vogue

"Captures the feel of late autumn days in the fields, the joy of raising their two daughters on the farm. But it also records the strain of a struggling small business and the pressure that can bring to bear on a marriage... Survival is victory for small farms these days."
–Brian Mann, NPR

"The author-turned-farmer gets real about marital problems, financial hardships, and the pleasure of eating what you grow."
–Sam Gillette, People Magazine

"The achievement at Essex Farm is heroic, and this book is a vivid and inspiring account of alternative agriculture, filled with a visceral feeling for the earth and a love of seasonal, organic food."
–PD Smith, The Guardian

"Kimball is a key voice for the young farmers taking on the hardest but most satisfying work."
—Concord Monitor

"Kimball's superb memoir chronicles the evolution of a farm, marriage, family, and her own personal identity with humor, insight, and candor…Readers curious about small-farm life, or simply how one woman weathers great change both professionally and personally, will love Kimball's gutsy, generous second memoir."
—Publishers Weekly, STARRED review

"This book is for all readers of memoir and lovely prose."
—Booklist, STARRED review

"With warmth, honesty and vivid anecdotes, Kimball weaves a compelling narrative… She writes movingly about accepting the gifts and the hardships of each season, outer and inner. Good Husbandry is a clear-eyed tribute to a tough but nourishing rural life and the deep, sustainable joy it provides."
—Shelf Awareness

"Like all good stories – fiction or nonfiction – Kimball's memoir considers what it means to build a good, happy life, and how we are tested in that endeavor. You don't need to know the first thing about farming to love this book."
—Mary Beth Keane, author of Ask Again, Yes

"I've always wondered what became of Kristin and Mark after The Dirty Life, and this book delivers. Their family grew, their crew grew, and Kristin tells the story of their hardships with grace, humor and honesty. I'm rooting for them."
—Andrea Bemis, author of Dishing Up the Dirt