Sunshine (Compact Disc)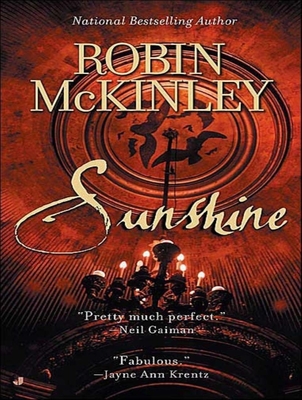 Description
---
There are places in the world where darkness rules, where it's unwise to walk. Sunshine knew that. But there hadn't been any trouble out at the lake for years, and she needed a place to be alone for a while. Unfortunately, she wasn't alone. She never heard them coming. Of course you don't, when they're vampires. They took her clothes and sneakers. They dressed her in a long red gown. And they shackled her to the wall of an abandoned mansion-within easy reach of a figure stirring in the moonlight. She knows that he is a vampire. She knows that she's to be his dinner and that when he is finished with her, she will be dead. Yet, as dawn breaks, she finds that he has not attempted to harm her. And now it is he who needs her to help him survive the day.
About the Author
---
Robin McKinley has won various awards and citations for her writing, including the Newbery Medal for "The Hero and the Crown."

Laural Merlington has recorded well over one hundred audiobooks, including works by Margaret Atwood and Alice Hoffman, and is the recipient of several "AudioFile" Earphones Awards. An Audie Award nominee, she has also directed over one hundred audiobooks.
Praise For…
---
"McKinley knows very well---and makes her [audience] believe---that 'the insides of our own minds are the scariest things there are.'" ---Publishers Weekly Starred Review