Being Mortal: Medicine and What Matters in the End (Paperback)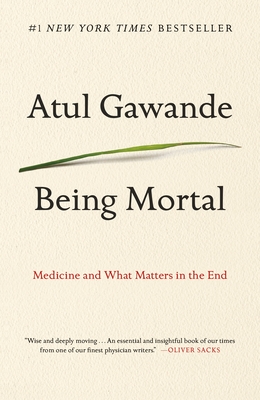 $17.99

Usually Ships in 1-5 Days
November 2014 Indie Next List
---
"Widely respected and honored physician Gawande addresses aging and end-of-life issues in his newest book. He notes that we treat sickness, aging, and mortality as medical concerns, but that the medical professions are poorly equipped to help with the issues of what makes the quality life significant. Gawande proposes that well-being should be the focus at the end of life and carefully illustrates how to approach this difficult subject. A gracefully written book of great importance."
— Ann Carlson, Waterfront Books, Georgetown, SC
Description
---
Named a Best Book of the Year by The Washington Post, The New York Times Book Review, NPR, and Chicago Tribune, now in paperback with a new reading group guide

Medicine has triumphed in modern times, transforming the dangers of childbirth, injury, and disease from harrowing to manageable. But when it comes to the inescapable realities of aging and death, what medicine can do often runs counter to what it should.

Through eye-opening research and gripping stories of his own patients and family, Gawande reveals the suffering this dynamic has produced. Nursing homes, devoted above all to safety, battle with residents over the food they are allowed to eat and the choices they are allowed to make. Doctors, uncomfortable discussing patients' anxieties about death, fall back on false hopes and treatments that are actually shortening lives instead of improving them.

In his bestselling books, Atul Gawande, a practicing surgeon, has fearlessly revealed the struggles of his profession. Here he examines its ultimate limitations and failures—in his own practices as well as others'—as life draws to a close. Riveting, honest, and humane, Being Mortal shows how the ultimate goal is not a good death but a good life—all the way to the very end.
About the Author
---
Atul Gawande is the author of several bestselling books: Complications, a finalist for the National Book Award; Better; The Checklist Manifesto, and Being Mortal. He is also a surgeon at Brigham and Women's Hospital in Boston, a staff writer for The New Yorker, and a professor at Harvard Medical School and the Harvard School of Public Health. He has won the Lewis Thomas Prize for Writing about Science, a MacArthur Fellowship, and two National Magazine Awards. In his work in public health, he is Founder and Chair of Ariadne Labs, a joint center for health systems innovation, and Lifebox, a nonprofit organization making surgery safer globally. He is also chair of Haven, where he was CEO from 2018-2020. He and his wife have three children and live in Newton, Massachusetts.
Praise For…
---
"Wise and deeply moving." —Oliver Sacks

"Illuminating." —Janet Maslin, The New York Times

"Beautifully written . . . In his newest and best book, Gawande has provided us with a moving and clear-eyed look at aging and death in our society, and at the harms we do in turning it into a medical problem, rather than a human one." —The New York Review of Books

"Gawande's book is so impressive that one can believe that it may well [change the medical profession] . . . May it be widely read and inwardly digested." —Diana Athill, Financial Times (UK)

"Being Mortal, Atul Gawande's masterful exploration of aging, death, and the medical profession's mishandling of both, is his best and most personal book yet." —Boston Globe

"American medicine, Being Mortal reminds us, has prepared itself for life but not for death. This is Atul Gawande's most powerful--and moving--book." —Malcolm Gladwell

"Beautifully crafted . . . Being Mortal is a clear-eyed, informative exploration of what growing old means in the 21st century . . . a book I cannot recommend highly enough. This should be mandatory reading for every American. . . . it provides a useful roadmap of what we can and should be doing to make the last years of life meaningful." —Time.com

"Masterful . . . Essential . . . For more than a decade, Atul Gawande has explored the fault lines of medicine . . . combining his years of experience as a surgeon with his gift for fluid, seemingly effortless storytelling . . . In Being Mortal, he turns his attention to his most important subject yet." —Chicago Tribune

"Powerful." —New York Magazine

"Atul Gawande's wise and courageous book raises the questions that none of us wants to think about . . . Remarkable." —Peter Carey, The Sunday Times (UK)

"A deeply affecting, urgently important book--one not just about dying and the limits of medicine but about living to the last with autonomy, dignity, and joy." —Katherine Boo

"Dr. Gawande's book is not of the kind that some doctors write, reminding us how grim the fact of death can be. Rather, he shows how patients in the terminal phase of their illness can maintain important qualities of life." —Wall Street Journal

"Being Mortal left me tearful, angry, and unable to stop talking about it for a week. . . . A surgeon himself, Gawande is eloquent about the inadequacy of medical school in preparing doctors to confront the subject of death with their patients. . . . it is rare to read a book that sparks with so much hard thinking." —Nature

"Eloquent, moving." —The Economist

"Beautiful." —New Republic

"Gawande displays the precision of his surgical craft and the compassion of a humanist . . . in a narrative that often attains the force and beauty of a novel . . . Only a precious few books have the power to open our eyes while they move us to tears. Atul Gawande has produced such a work. One hopes it is the spark that ignites some revolutionary changes in a field of medicine that ultimately touches each of us." —Shelf Awareness

"A needed call to action, a cautionary tale of what can go wrong, and often does, when a society fails to engage in a sustained discussion about aging and dying." —San Francisco Chronicle