Start with Hello: (And Other Simple Ways to Live as Neighbors) (Paperback)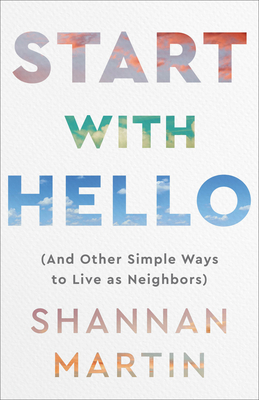 $18.99

Usually Ships in 1-5 Days
Description
---
When was the last time you made a new friend? Chatted with a neighbor? Felt connected to your community? Risked being known? There are so many ways, both intentionally and unintentionally, we wall ourselves off from one another, yet we are truly better, healthier, and happier together.

The good news is, if you long to trade loneliness, isolation, and disconnection for the security, camaraderie, and joy found through authentic connection with those around you, you need only Start with Hello. In this practical, compelling book, author Shannan Martin shares simple practices for living as a more open-hearted, empathetic neighbor who sees past what divides us, looks for common ground, and is rewarded with vibrant and enduring friendships. Told from Shannan's street-level vantage point in her diverse, complex neighborhood, we see the path to a more deeply connected life before us. Start with Hello illuminates the way.
About the Author
---
Shannan Martin, author of The Ministry of Ordinary Places and Falling Free, is a speaker and writer who found her voice in the country and her story in the city. Shannan works as a cook at The Window, a local nonprofit dedicated to feeding its community. She, her jail-chaplain husband, and their kids live as grateful neighbors in Goshen, Indiana. Follow her on Instagram @shannanwrites.