A Fading Sun (Sunpath #1) (Mass Market)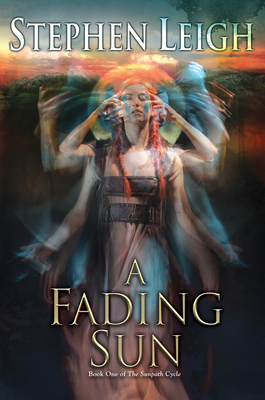 Other Books in Series
This is book number 1 in the Sunpath series.
Description
---
In this new paranormal fantasy series, a powerful woman who can see the dead must choose whether to forge a new path for herself and her family…. 

"The problem with ghosts is that they don't quite realize that they're dead."
 
Voada Paorach can see the dead. It is a family trait, but one that has had to remain hidden since the Mundoan Empire conquered her people's land three generations ago. But this ghost isn't the same as the others she has glimpsed, the lost souls she has helped to find their way to the land beyond life.  This ghost demands that Voada follow a new path, one that will mean leaving behind everything and everyone she has known and loved.
 
Voada will come to understand the power that her people possess, but she will also learn the steep price that must be paid for such a gift.

Fast-moving and intense, A Fading Sun explores grief, sacrifice, ambition, and the forging of personality in the crucible of war.
About the Author
---
Stephen Leigh is a Cincinnati-based, award-winning author with nineteen science fiction novels and over forty short stories published. He has been a frequent contributor to the Hugo-nominated shared world series Wild Cards, edited by George R. R. Martin. He teaches creative writing at Northern Kentucky University. Stephen Leigh has written Immortal Muse, The Crow of Connemara, and the fantasy trilogy Assassin's Dawn. He can be found at farrelworlds.com.
Praise For…
---
Praise for A Fading Sun:

"Leigh's complex and substantial fantasy series opener adds elaborate spellcasting and powerful sorcerers to the legend of Celtic warrior queen Boudica repelling the Romans.... Leigh skillfully weaves together a comprehensive and rich mythology, intricate fight sequences, and a mother's all-consuming revenge." —Publishers Weekly

"Readers, who will detect a resemblance to Ireland, Scotland, and England during the Roman era, will eagerly anticipate the sequel." —Booklist

"Leigh builds a vivid, thrilling and exciting new world that will captivate and hold the imagination in A Fading Sun." —RT Reviews

"Stephen Leigh's A Fading Sun is another powerful entry in the category of stories about the change wrought by empires—for better or worse." —Barnes & Noble Sci-fi & Fantasy Blog