The Crow of Connemara (Mass Market)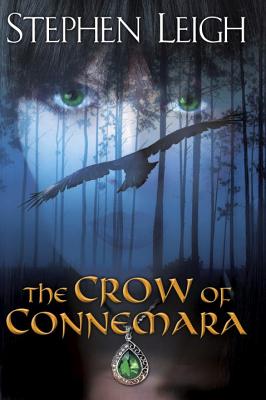 Description
---
Set in Ireland and Chicago, The Crow of Connemara is the spellbinding tale of Colin Doyle, a young Irish-American musician drawn to his grandfather's homeland.

Entranced by the music and legends of the island, gifted with his grandfather's journal and a mysterious jewel, and bespelled by dreamlike images of a woman calling to him, Colin feels his inescapable destiny lies across the waters.

On the west coast of Ireland, in the Connemara region, the music is everything he hoped it would be, and the legends seem to come to life before his eyes. In the small town of Ballemor, Colin first encounters the woman of his dreams, Maeve Gallagher.

Maeve, a raven-haired beauty with eyes of emerald green, is the leader of a small group, the Oileánach, that has taken over the island of Inishcorr just off the coast and is making their stand against government officials determined to evict them. But Maeve and her followers are more than rebellious squatters—they are the living embodiment of ancient ways, of a time before mortals ruled the lands. And Inishcorr is their last hope for survival, their portal to the place they are meant to be.

But to open that portal, Maeve needs the willing assistance of her chose bard: Colin. Yet even as Colin falls under her enchantment, Maeve too must struggle against emotions she cannot afford to recognize. For to allow herself to truly care for Colin could spell the end of her people's hopes, dreams, and very existence.
About the Author
---
Stephen Leigh is a Cincinnati-based, award-winning author with nineteen science fiction novels and over forty short stories published. He has been a frequent contributor to the Hugo-nominated shared world series Wild Cards, edited by George R. R. Martin. He teaches creative writing at Northern Kentucky University. Stephen Leigh has written Immortal Muse, The Crow of Connemara, and the fantasy trilogy Assassin's Dawn. He can be found at farrelworlds.com.
Praise For…
---
Praise for The Crow of Connemara:

"An intriguing mix of old Celtic Fae mythology and a contemporary drama of finding yourself.... Leigh is a master at building an entire world, not just the bare bones required by the plot." —RT Reviews
 
"The Crow of Connemara is an aptly written, thoughtful story that weaves its magic using strands from Irish mythology and folktales and juxtaposing them nicely with life in the modern world. I consider Leigh's book as one-part fantasy, one-part drama, and two parts tragic romance." —North Kentucky Tribune

"Leigh did a wonderful job doing the world building of this story.... An exciting and interesting ending." —The Reading Café
 
"There is something so otherworldly about Ireland and its rich history, and [Leigh] does a beautiful job of tying it in with a contemporary storyline." —Coffee Time and Romance
 
 "Full of imagination and lovely imagery. If you like a tale that is a modern drama, yet full of old magic and fantasy with a tragic love story then this the book for you." —The Nameless Zine