The Extraordinary Life of an Ordinary Man: A Memoir (Paperback)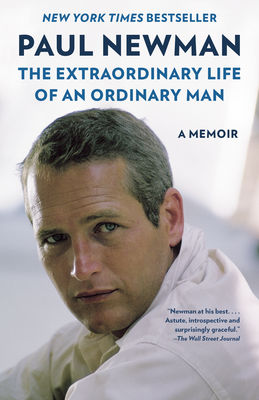 $18.00

Usually Ships in 1-5 Days
Description
---
NEW YORK TIMES BEST SELLER • The raw, candid, unvarnished memoir of an American icon. The greatest movie star of the past 75 years covers everything: his traumatic childhood, his career, his drinking, his thoughts on Marlon Brando, James Dean, Elizabeth Taylor, John Huston, his greatest roles, acting, his intimate life with Joanne Woodward, his innermost fears and passions and joys. With thoughts/comments throughout from Joanne Woodward, George Roy Hill, Tom Cruise, Elia Kazan and many others.

A BEST BOOK OF THE YEAR: TIME and Vanity Fair

"Newman at his best…with his self-aware persona, storied marriage and generous charitable activities…this rich book somehow imbues his characters' pain and joy with fresh technicolor." —The Wall Street Journal

In 1986, Paul Newman and his closest friend, screenwriter Stewart Stern, began an extraordinary project. Stuart was to compile an oral history, to have Newman's family and friends and those who worked closely with him, talk about the actor's life. And then Newman would work with Stewart and give his side of the story. The only stipulation was that anyone who spoke on the record had to be completely honest. That same stipulation applied to Newman himself. The project lasted five years.
 
The result is an extraordinary memoir, culled from thousands of pages of transcripts. The book is insightful, revealing, surprising. Newman's voice is powerful, sometimes funny, sometimes painful, always meeting that high standard of searing honesty. The additional voices—from childhood friends and Navy buddies, from family members and film and theater collaborators such as Tom Cruise, George Roy Hill, Martin Ritt, and John Huston—that run throughout add richness and color and context to the story Newman is telling.
 
Newman's often traumatic childhood is brilliantly detailed. He talks about his teenage insecurities, his early failures with women, his rise to stardom, his early rivals (Marlon Brando and James Dean), his first marriage, his drinking, his philanthropy, the death of his son Scott, his strong desire for his daughters to know and understand the truth about their father. Perhaps the most moving material in the book centers around his relationship with Joanne Woodward—their love for each other, his dependence on her, the way she shaped him intellectually, emotionally and sexually.
 
The Extraordinary Life of an Ordinary Man is revelatory and introspective, personal and analytical, loving and tender in some places, always complex and profound.
About the Author
---
PAUL NEWMAN was an actor, film director, race car driver, and entrepreneur. A ten-time Oscar nominee, Newman won an Academy Award for Best Actor for The Color of Money. He was also the recipient of numerous other awards, including a BAFTA Award, three Golden Globe Awards, a Screen Actors Guild Award, and the Jean Hersholt Humanitarian Award. His films include The Hustler, Hud, Harper, Cool Hand Luke, Butch Cassidy and the Sundance Kid, The Sting, The Verdict, Mr. and Mrs. Bridge, Nobody's Fool, Road to Perdition, and Disney-Pixar's Cars. As a political activist and humanitarian, he raised and donated nearly $1 billion to many charities. Newman had six children and was married to Oscar-winning actress Joanne Woodward for fifty years. He died in 2008 at the age of eighty-three.
Praise For…
---
ONE OF THE BEST BOOKS OF THE YEAR BY Time Magazine, Vanity Fair

"This is like eavesdropping on a dinner party filled with friends and colleagues all listening to and talking about the man sitting at the head of the table, Paul Newman. Honest, funny and often painful conversations which were found by his daughters and woven together into a fascinating memoir of their "anything but ordinary" father. I loved the book and adored the man."—Sally Field

"'The Extraordinary Life of an Ordinary Man' is all voice—which is to say, it is Newman at his best… [It] is twice the book one could have dared to hope for, a narrative that is astute, introspective and surprisingly graceful...When we meet our heroes on the page, we want them to have something thoughtful to say—to make good on the ad­mi­ration their out­size per­formances have won. New­man al­ways seemed likely to pass that test, with his self-aware per­sona, sto­ried mar­riage and gen­er­ous char­i­ta­ble ac­tiv­i­ties. Still, to see it come true in this rich book somehow imbues his characters' pain and joy with fresh technicolor." —Michael O'Donnell, The Wall Street Journal

"[W]hen news emerged that an unpublished memoir, once thought lost, had been discovered by Newman's family and would be "revealing and surprising", fans braced themselves for the worst. Were we to be subjected to tales of Paul Newman, abuser of small animals? Paul Newman the devil-worshipper? Must every hero fall? But Paul Newman: The Extraordinary Life of an Ordinary Man, which was published last week, only burnishes his reputation. Not because he bangs on about his glorious deeds – in fact, he barely mentions them at all – but because this once very private man reveals so much of his fascinating, never disappointing self. He was constantly questioning himself, riddled with guilt about the past, deeply in love with his wife and trying to learn from his mistakes. Human, in other words, but better." —Hadley Freeman, The Guardian

"The book is an extraordinary glimpse into the psyche of one of Hollywood's greatest icons—in large part because Newman was so unfiltered on subjects ranging from his complicated relationship with his looks and fame, his perceived failures as a father and husband to first wife Jackie Witte, and his fiery passion for second wife Joanne Woodward. You'll be hard-pressed to find another star willing to share half as much." —Julie Miller, Vanity Fair

"Raw, honest and revealing. Through his own reminisces and those of his contemporaries, including Elia Kazan, Stuart Rosenberg, Eva Marie Saint and Tom Cruise, the book provides a firsthand glimpse of Newman's life and how his choices affected those around him. His upbringing, military service in World War II, first marriage to Jackie Witt, second marriage to actor Joanne Woodward, six children and professional and personal endeavors are all laid out on the table…The Extraordinary Life of an Ordinary Man is a humble and candid look into the life of a celebrated but often misunderstood man." —Becky Libourel Diamond, BookPage

"A stunning memoir by an actor who could convincingly play a charismatic but self-destructive outsider because he knew the breed all too well...a brutally frank reflection on a life filled with self-doubt...[The Extraordinary Life of an Ordinary Man] smolders with introspection as Newman tries to ascertain what he couldn't see in himself that so many others did." —Douglass K. Daniel, AP news

"Unlike most celebrity self-retrospectives, this is not a "first I did this, then I did that" kind of memoir. It is, rather, a sharp, acerbic, often somber "what was I thinking?" analysis that reveals a level of vulnerability and insecurity surprising for a man who was seen as the epitome of cool…Fans looking for Hollywood gossip will not find it, while those who really want to know the man behind the image and the legend will be compelled by Newman's raw, open, and principled self-portrait…Newman's timeless allure will work its magic on readers." —Booklist, Starred review

"Actor, race car driver, and philanthropist Newman (1925–2008) was a deeply private man living an intensely public life; this posthumous memoir features the Hollywood legend's own voice as he "sets things straight" and "pokes holes in the mythology" that accompanied his celebrity…Newman's story unfolds in a humble, sometimes humorous narrative voice—"I'm aware that in some ways it's my nature to deprecate everything I do"—punctuated with earnest awe of the turns his life has taken, astonishment at the intensity of his passion for wife Joanne Woodward, affection for his children and anguish that he could not shelter them from the vagaries of fame. Newman's voice is interwoven with transcripts from friends, relatives, and colleagues (including Eva Marie Saint, Tom Cruise, Elia Kazan, and more) whose memories shed light on what transformed the summer stock actor into an international sex symbol and what curbed his struggles with alcoholism and grief from veering into tragedy. …[T]hese collective perspectives do more than offer a prismatic view of film industry glamour and dirty laundry: they elevate the book from a humble autobiography to a more nuanced, human portrait—with the "semblance of truth" that Newman craved when he went on the record. With equal parts grounded authenticity and inviting charm, this candid memoir captures the life of a legend." —Publishers Weekly

"Raw reflections from a movie icon…a revealing memoir of a life marked by pain, grief, and regret…Intimate reflections on an extraordinary life steeped in sadness." —Kirkus Reviews

"This unforgettable and extraordinary memoir, one of the best and most compelling books of 2022, is a breathtakingly honest mea culpa from a complicated man striving to excavate his demons…" --Kevin Howell, Shelf Awareness, starred review