An Accidental Odyssey (An Exlibris Adventure #2) (Paperback)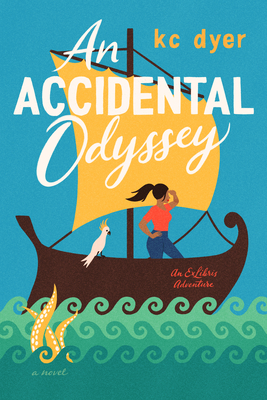 Other Books in Series
This is book number 2 in the An Exlibris Adventure series.
Description
---
An unexpected phone call derails a young woman's wedding plans and sparks an epic adventure around the modern-day Mediterranean in this "mouth-watering voyage" (Kirkus Reviews) of a novel by kc dyer.

Gianna Kostas is on the cusp of a fairy-tale life. Sure, she's just lost her job, but she's about to marry one of New York's most eligible bachelors. On her way to taste wedding cakes, though, things go sideways. Shocking news sends Gia off on a wild journey halfway around the world in pursuit of her ailing—and nearly estranged—father.

In Athens, she learns Dr. Kostas, a classics professor, is determined to retrace Odysseus's famous voyage. This is a journey her father is in no condition to take alone, so Gia faces a tough decision. When an unexpected job offer helps seal the deal and quash the guilt Gia feels from her disapproving groom-to-be, the journey is on. But as Gia adventures—and eats—her way around the Mediterranean, she discovers that confronting epic storms and ripped surfer dudes might be the easy part.

Along the way, as she uncovers family secrets, finds heartbreak, and learns more about a certain archaeologist with a mysterious past of his own, Gia discovers that fairy-tale endings might be messy and complicated, but they can happen anywhere.
About the Author
---
kc dyer resides in the wilds of British Columbia where she likes to walk in the woods and write books for teens and adults. Before An Accidental Odyssey, her most recent novels for adults were Eighty Days to Elsewhere and Finding Fraser, both romantic comedies published by Berkley. For teens, kc's most recent work is Facing Fire, a sequel to the acclaimed novel, A Walk Through a Window, published by Doubleday.