Beauty's Kingdom: A Novel (A Sleeping Beauty Novel #4) (Hardcover)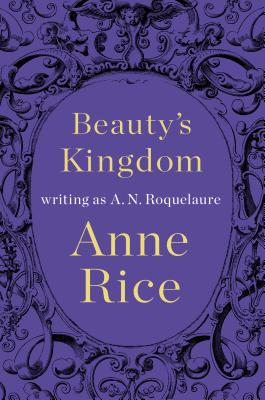 $27.95
Email or call for price
Other Books in Series
This is book number 4 in the A Sleeping Beauty Novel series.
Description
---
Before E. L. James and Sylvia Day, there was Anne Rice: Discover Beauty's Kingdom, the fourth novel in the bestselling Sleeping Beauty series 

Mega-bestselling author Anne Rice, writing as A. N. Roquelaure, returns to the mysterious kingdom of Queen Eleanor in this new chapter of her Sleeping Beauty series. When the great queen is reported dead, Beauty and Laurent return to the kingdom they left twenty years before. Beauty agrees to take the throne, but she insists that all erotic servitude be voluntary. Countless eager princes, princesses, lords, ladies, and commoners journey to Beauty's realm, where she and her husband usher in a new era of desire, longing, and ecstasy. Provocative and stirring, Rice's imaginative retelling of the Sleeping Beauty myth will be adored by her longtime fans and new readers of erotica just discovering the novels.
 
This book is intended for mature audiences.
About the Author
---
Anne Rice is the author of many bestselling novels, including the hugely successful Vampire Chronicles. Her first novel, Interview with the Vampire, was made into a film in 1994 starring Tom Cruise and Brad Pitt. Her other books include the Mayfair Witches series, the novels The Mummy or Ramses the Damned, Violin Angel Time, the Sleeping Beauty trilogy, and, most recently, Prince Lestat: The Vampire Chronicles. Born and raised in New Orleans, Louisiana, she now lives in Southern California.
Praise For…
---
PRAISE FOR BEAUTY'S KINGDOM

"Voluptuous imagery and graphic scenes...Roquelaure pulls no punches (or holds back no spankings). The fairy-tale setting provides an apt stage, and the magical world clearly marks the erotic action as fantasy."
—Kirkus

"[A] thumbs-up…. BEAUTY'S KINGDOM is a delightful, immersive read, all at once playful, campy, explicit, erotic, and provocative."
—Publisher's Weekly 

"Rice's lush prose is elegant and enchanting, reminiscent of classic historical fiction in its lyrical structure and elaborate description"
—Library Journal 

"As Rice returns to the realm of BDSM, we are eager to learn what boundaries she has left to push. New and old readers alike will surely enjoy submitting to some quality time with these books."
—RT Reviews
 
"Anne Rice has drawn with her ever beautiful prose an erotic domain built around freedom, choice, acceptance, and assent. It is a safe place that encourages the reader to find his/her own path of sensuality and sexual fulfillment."
—Pop Mythology
 
"This is not a traditional romance; Beauty's Kingdom is a fierce, fearless BDSM fantasy read; erotica at its BEST, written by a master storyteller. What's not to love? Provocative and stirring, Beauty's Kingdom is an uncompromising erotic work start to finish."
—Book Crack (5 out of 5 stars)
 
"The story is a grandiose, liberating dreamscape that lets anyone that suffers from different insecurities about their sexual identity, feel freed by Anne Rice's experienced guiding hand."
—Air of Mystery Reviews
 
"approach it like triple chocolate cheesecake; take it in slowly, one sliver at a time, and perhaps even share it with someone special."
—I Smell Sheep (4 out of 5 Sheep)
 
 "If you are looking for a H.O.T., well written story, and love fantasy reads…you won't be disappointed in Beauty's Kingdom." Flirty and Dirty Book Blog (3.5 stars out of 5)
 "BEAUTY'S KINGDOM is a treat and should not be missed."
—Fresh Fiction

"Rice writes excellent, interesting, sympathetic characters… this is guaranteed to put a bounce in your britches."
—Romance & Smut
 
"BEAUTY'S KINGDOM is a refined erotic gem for the sophisticated adult."
—Agents of Romance
 
 "This book is no joke…. Yep, this story centers around dominate and submissive characters, bondage, and discipline. Throw in the complexities of relationships and friendships and you have a pretty intense story."
—Shelf Addiction
 
"A feast for fans of fantasy play, dress-up, power exchange in wild settings, BEAUTY'S KINGDOM is sure to be a knock-out once again for Rice."
—Dawnamatrix
 
"I found that I actually wanted to know what happens to these characters—I was no longer in it just for the sex. And I was not disappointed."
—Bookshelf Bombshells
 
4 out of 5 stars, Sexy Book Reviews