Angelmaker (Vintage Contemporaries) (Paperback)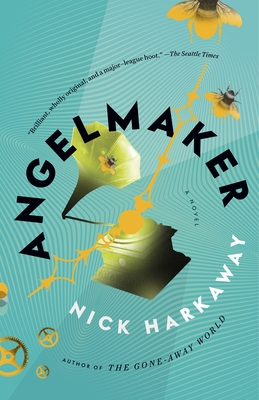 April 2012 Indie Next List
---
"Joe Spork actively resists becoming a gangster like his dad. He knows he's missing something in his life as a law-abiding clockmaker, but can't quite put his finger on it. Reluctantly, he agrees to do a job for a friend from the shadier spots of his past and unknowingly turns on a machine that just might end the world as we know it. What follows is an escalating escapade into a world of mad scientists, a religious cult, secret agents, a death czar, covert government bureaucrats, swarms of golden bees, and gangsters galore. Angelmaker is an imaginative romp, another delightful story from the curious mind of Nick Harkaway."
— Hannah Johnson-Breimeier, The Next Chapter Bookstore, Montgomery, MN
Description
---
A Wall Street Journal and Booklist Best Mystery of 2012
A Best Science Fiction Book of 2012 -- The Guardian
GeekDad's Best Adult Fiction of 2012 -- Wired.com

Finalist for the Los Angeles Times Book Prize and the Arthur C. Clarke Award

A rollicking romp of a spy thriller from the acclaimed author of The Gone-Away World.
 
Joe Spork fixes clocks. He has turned his back on his father's legacy as one of London's flashiest and most powerful gangsters and aims to live a quiet life. Edie Banister retired long ago from her career as a British secret agent. She spends her days with a cantankerous old pug for company. That is, until Joe repairs a particularly unusual clockwork mechanism, inadvertently triggering a 1950s doomsday machine. His once-quiet life is suddenly overrun by mad monks who worship John Ruskin, psychopathic serial killers, mad geniuses and dastardly villains. On the upside, he catches the eye of bright and brassy Polly, a woman with enough smarts to get anyone out of a sticky situation. In order to save the world and defeat the nefarious forces threatening it, Joe must help Edie complete a mission she abandoned years ago, and he must summon the courage to pick up his father's old gun and join the fight.
About the Author
---
NICK HARKAWAY is the author of two novels, The Gone-Away World and Angelmaker, and The Blind Giant: Being Human in a Digital World. He is also a regular blogger for the Bookseller's FutureBook website. From 1999 to 2008, he was a jobbing scriptwriter. During that time he also wrote brochure copy for a company selling bottle-capping machinery, and the website text for an exclusive lingerie boutique. He lives in London with his wife Clare, a human rights lawyer, and his daughter Clemency, an infant.
 
www.nickharkaway.com
Praise For…
---
"A head-spinning cliffhanger that reads a bit like Harry Potter for grownups. . . . It would be a shame if no movie were made from this glorious piece of kaleidoscope-fiction." --The Wall Street Journal

"Brilliant, wholly original, and a major-league hoot." —The Seattle Times

"Nick Harkaway has created a brand new genre: Existential pulp . . . Redolent of comic books and action serials, but there are also serious questions about the nature of existence and personhood being asked. . . . So over the top, it redefines where the top is." —io9

"A big, gleefully absurd, huggable bear of a novel. . . . Harkaway's prose is playful and beguiling, with a keen satiric edge." —Slate 

"A story of technology and morality. It's a wonderfully strange, rich piece of work— extremely entertaining and exciting—and has a wonderfully comic aspect to it as well." —William Gibson
 
"A magnificent, literary, post-pulp triumph. . . . Angelmaker is an entertaining tour-de-force that demands to be adored."  —The Independent (London)

"It's hard to put a finger on exactly why Angelmaker is one of the year's best books. Know this, though: it is."  —Tor.com
 
"Angelmaker strenuously avoids falling into any usual category of fiction. Part science fiction, part philosophical exploration, part steampunk fantasy and part lovingly realistic description of contemporary London, it pays tribute to Charles Dickens in its quirky names and frequent coincidences, and to pulp fiction in its semi-clad damsels and grisly scenes of torture. It is also mordantly funny." —The Columbus Dispatch
 
"[Harkaway] manages to write surrealist adventure novels that feel both urgent and relevant. His novels are fun to read without seeming particularly frivolous, and beneath all the derring-do and shenanigans, there's a low thrum of anxiety: everything and everyone you love could disappear at any moment. . . . Angelmaker is a truly impressive achievement." —The Millions
 
"A lot of books are fun to read for the plot; a smaller percentage display this artful mastery of the language. And precious few manage to do both. Angelmaker falls into that last category." —Wired.com
 
 "An ambitious, crowded, restless caper, cleverly told. . . .  A solid work of modern fantasy fiction." —The Observer (London)
 
"Marvelously old-fashioned in the best sense of that word. It's a sprawling, irreverent, blockbuster of a novel, an apocalyptic roller coaster of a book."—Open Letters Monthly
 
"A genuine tale of fantastika. . . . And the truth of what we have done, and where we live now, shines through."   —Strange Horizons
 
"A riotous, wildly inventive mish-mash of genres and seemingly contradictory ideas [Angelmaker] manages the not inconsiderable trick of being both immensely entertaining and curiously heartfelt." —The Sydney Morning Herald
 
"A joyful display of reckless, delightful invention, on a par with the rocket-powered novels of Neal Stephenson, if in rather more ironically diffident English form. Ideas come zinging in from all corners, and do so with linguistic verve and tremendous humour. . . . What a splendid ride." —The Guardian (London)
 
"An intricate and brilliant piece of escapism. . . . Gleefully nostalgic and firmly modern, hand-on-heart and tongue-in-cheek, this is as far as it could be from the wearied tropes that dominate so much of fantasy and SF." —Daily Telegraph (London)
 
"[The Gone-Away World] was a work of such glorious, exhaustive excess a part of me wondered if Harkaway would actually write again. I am profoundly glad that he has: Angelmaker is every bit as entertaining and imaginative. . . . Effervescent and witty. . . . Harkaway manages the ideal blend of paying homage to a very British sense of decency and fair play, while at the same time idolising the rule-breakers." — Stuart Kelly, Scotsman on Sunday
 
"Endlessly inventive. . . . An absurdist sendup of pulp story tropes and end-of-the-world scenarios." —Publishers Weekly (starred review)
 
"Harkaway's celebrated debut, The Gone-Away World . . . was really just a warm up act—a prodigiously talented novelist stretching muscles that few other writers even possess—for this tour de force of Dickensian bravura and genre-bending splendor. . . . This is a marvelous book, both sublimely intricate and compulsively readable." —Booklist (starred review)
 
"Harkaway keeps us guessing, traveling the edges between fantasy, sci-fi, the detective novel, pomo fiction and a good old-fashioned comedy of the sort that Jerome K. Jerome might have written had he had a ticking thingy instead of a boat as his prop. . . . His tale stands comparison to Haruki Murakami's 1Q84." —Kirkus (starred review)