A Hat Full of Sky (Tiffany Aching #2) (Paperback)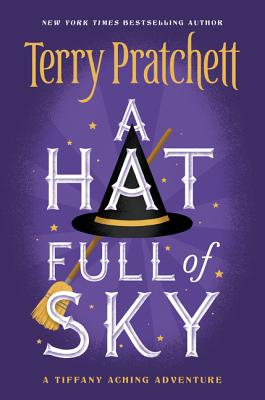 Other Books in Series
This is book number 2 in the Tiffany Aching series.
Description
---
The second in a series of Discworld novels starring the young witch Tiffany Aching.
Something is coming after Tiffany. . . .
Tiffany Aching is ready to begin her apprenticeship in magic. She expects spells and magic—not chores and ill-tempered nanny goats! Surely there must be more to witchcraft than this!
What Tiffany doesn't know is that an insidious, disembodied creature is pursuing her. This time, neither Mistress Weatherwax (the greatest witch in the world) nor the fierce, six-inch-high Wee Free Men can protect her. In the end, it will take all of Tiffany's inner strength to save herself . . . if it can be done at all.
About the Author
---
Sir Terry Pratchett was the internationally bestselling author of more than thirty books, including his phenomenally successful Discworld series. His young adult novel, The Amazing Maurice and His Educated Rodents, won the Carnegie Medal, and Where's My Cow?, his Discworld book for "readers of all ages," was a New York Times bestseller. His novels have sold more than seventy five million (give or take a few million) copies worldwide. Named an Officer of the British Empire "for services to literature," Pratchett lived in England. He died in 2015 at the age of sixty-six.
Praise For…
---
"A masterpiece of comic fantasy. [Pratchett's] deep feeling for landscape, animals, kindness, and courage make his adventures deeply satisfying as well as clever." — London Times
"Wonderful language, genuinely scary explorations and a young girl whose growing up is believable and exciting." — Chicago Tribune
"The humor races from cerebral to burlesque without dropping a stitch. Astonishing." — Horn Book (starred review)
"Tiffany is Hermione Granger, Gaiman's Coraline, and Pullman's Lyra Belacqua rolled into one. A great adventure with plenty of magic and laughs." — Voice of Youth Advocates (VOYA) (starred review)
"By turns hilarious and achingly beautiful, this be just right." — Kirkus Reviews
"Readers will curl up to read with a sigh of contentment." — Bulletin of the Center for Children's Books
"Full of irreverent humor, laugh-out-loud dialogue, and many memorable characters. Fans of the previous book are in for another treat." — School Library Journal